This quarter, we are please to spotlight two of our student members in a special Student Spotlight. Michelle Bingheim is president of WIU's Music Therapy Association, and Courtney Daniel is president of ISU's Crescendo student music therapy association.
What inspired you to become a music therapist?
Growing up, I was always taught to help others by using your talents. I knew I loved music, and I also knew that I wanted to help people. When I found out about music therapy, I knew it was meant to be! I love that I am able to use the talents that God gave me to help others have the best life possible.
What clients or populations do you want to work with?
My dream job is to work with children in a school setting. Eventually, I would love to teach music therapy at the university level.
Who is your role model?
My biggest role model in life would be my sister because she has been there for me since day one. When it comes to music therapy, my biggest role model would be Dr. Jones; she helps each student and works with each of us to be the best music therapist possible. I have a "music therapy crush" on Dr. Masko because of her knowledge for music therapy research and all the work that she has done in the field relating to research.
What are your hobbies?
My hobbies include playing the trumpet, being involved at my church, volunteering for the Salvation Army, supporting St. Jude Children's Research Hospital and Easter Seals through Epsilon Sigma Alpha International, and rooting for the St. Louis Cardinals!
What is your favorite self-care activity?
My favorite self-care activity is spending time with family and friends! If I need alone time, I love to binge watch shows on Netflix or go for a walk.
---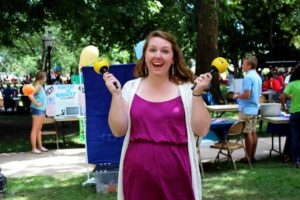 What inspired you to become a music therapist?
I never really knew the true definition of music therapy until I transferred to ISU in fall of 2015. I first heard of music therapy when I was visiting Illinois State my sophomore year of high school. Since then, the thought of music therapy never left my mind. I became most inspired when I actually started practicing the profession.
What clients or populations do you want to work with?
I am currently applying for internships in mainly hospice facilities, but would also love to learn about and work with babies in the NICU. How have you found music to be therapeutic yourself? My comfort is found through the lyrics of songs. Whenever I am at a loss for the right words to say, I turn to music. I find myself stressing out about certain things in life, but I always come back to the music which is really empowering.
Who is your role model?
Together, I would say my parents are my role models. They have raised me to believe that I am capable of anything. They care, provide, support, and believe in me. I would not be who I am today without them, and I am so thankful for them.
What are your hobbies?
Of course I love singing and playing piano and guitar. At ISU I am involved in Concert Choir and Madrigals, as well as the president of our student organization, Crescendo: Music Therapy. Outside of school I love to paint on canvas and hang my work up on the wall. I am also a huge fan of Pinterest projects, watching dramatic Netflix series, and enjoying time outside.
What is your favorite self-care activity?
Sleep. I almost always try to get eight hours of sleep every weeknight. That has been my best self-care activity. I am healthy, but I still work hard and get good grades.